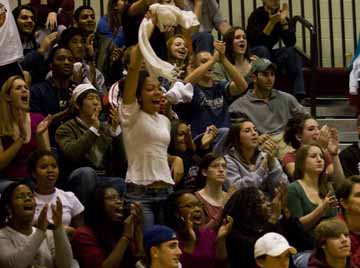 It's one of those nights that makes collegiate sports special ... a game against your school's traditional rival. At D-1, it's Ohio State-Michigan, USC-UCLA or North Carolina-Duke ... at 1-AA, think of Yale-Harvard, Army-Navy or Lafayette-Lehigh. Tonight, it's Haverford-Swarthmore. Cliche time ... throw out the records when these two teams meet as Tarble Pavilion will be jumping. But that's not the only rivalry game of the night. Gettysburg makes the 20-mile jaunt down Route 97 to take on McDaniel, while the Dickinson men come down 283 to take on Franklin & Marshall. Washington crosses the Bay Bridge to the Charm City to do battle with Johns Hopkins ... and Ursinus heads north to Allentown to face Muhlenberg. All important games ... but a few have extra significance to the Conference playoff chase.
Gettysburg at McDaniel (Women's Basketball)
The Bullets (6-4 CC, 9-8) and the Green Terror (8-3, 10-6) meet for the 75th time in a rivalry that dates to 1949. Gettysburg has won all three games last season to close its all-time series deficit to 42-32. McDaniel won 10 straight games from 2003-07 and is 14-4 against the Orange and Blue at the Gill Center since 1994. The Terror's Ali Moreland has blossomed into one of the CC's top all-around performers, averaging 12.9 points, 4.7 rebounds and 3.9 assists per game with 48 steals. Westminster native Allie Drechsler - whose father is a McDaniel alum - averages 10 points per game for the Bullets.
Washington at Johns Hopkins (Women's Basketball)
Even though we're just at the halfway mark of the season, the loser of this game could find themselves on the outside looking in come playoff time. The Shorewomen (4-5, 9-6) have dropped five of their last six overall and are winless against the Blue Jays (4-5, 6-10) in 20 all-time contests. In fact, just one of those games has been decided by fewer than 10 points. Washington will need a big game from Jane O'Donnell (14.8 ppg) while putting the defensive clamps on JHU's Lyndsay Burton, who has a streak of five consecutive 20-point performances.
Gettysburg at McDaniel (Men's Basketball)
It's a border war when the Bullets (8-2, 13-3) and the Green Terror (7-3, 12-5) get together and when first place in the Conference is on the line, the stakes are even higher. Gettysburg swept the season set last year to take a 69-27 all-time series lead. McDaniel had won two straight from the Bullets at home before dropping a 66-65 overtime decision last winter at Gill. This one could be decided by the big men - Gettysburg's Andrew Powers (17.4 ppg, 7.1 rpg) and McDaniel's Josh McKay (17.3 ppg over his last three games).
Ursinus at Muhlenberg (Men's Basketball)
It's the 94th meeting between the Bears (5-5, 9-8) and the Mules (5-5, 9-7) and a game that could decide a playoff berth at the end of the year. Ursinus, the defending CC champs, is just 2-7 on the road this season but has won five of the last six at Memorial Hall. Muhlenberg is 6-2 on its home court with its losses coming by a combined total of three points to CC co-leaders Gettysburg and F&M. The game has an interesting contrast between the Bears' guard-oriented lineup, led by John Noonan (19.8 ppg), and the Mules' power game inside, headed by Peter Barnes (13.3 ppg, 9.4 rpg) and Spencer Liddic (11.8, 7.6).